其它国家
每个国家都有各自的风采和迷人,每个国家都有自己的文化和语言,但是当这一群来自欧美各国的年轻人,进入中国家庭的时候,他们对中国的感受和对中国家庭的帮助,也是那么地不同:本国色彩会让您家近距离地拥抱世界;同时,他们的投入和热心,又都是那么地相同:我们爱你们,亲爱的中国家庭!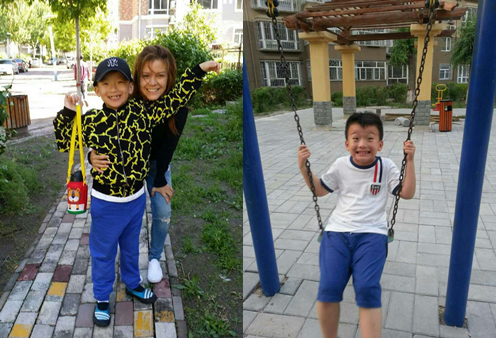 下面这封信,来自于居住在大庆的一名互惠生:
My name is Laurita I come from Spain. I've worked as an Aupair in the USA before and I must admit the experience is quite different in China. When I first arrived here, I was so impressed about the night sights even though I'm in Daqing, a city of only 1 million population, people who live in the built-up city. Daqing, which means "Great Celebration" has experienced a great boom since oil was discovered in 1959.
Furthermore, one of my first good impressions were about the air, which is clear and the traffic is light; very different from what people think about all the cities in China. Almost all the buildings are new and the wide roads are neat.
After two days of my staying here, I started to hear something that was unfamiliar to me, like gunfire or explosions every day and nearby, so at first I was scared but I didn't want to look as if I were scared of it. Then I started thinking it was a northern war; but now that I've been here for two months, it is a pleasure to be awakened by fireworks that are launched every day at any time.
From the earliest time in the Chinese culture, fireworks were launched when someone gets married or when someone dies, to let family and friends know, when communication wasn't easy and these traditions are still alive. It is beautiful to find myself within a culture that is blend of contemporary and traditional customs; among human beings who are wealthy, but austere and humble as well. Thus, it's not just learning a whole new language, it is a spiritual learning such as being born again and reinvented yourself once and over again.
To conclude, last but not least, I truly think that I'm very lucky to have arrived here to meet and live with my host family. They have made me feel as if I were in my own home and their kindness is more than what I had expected. I can't stop thinking that by the time I get back home, l will feel like having accomplished one the biggest challenges in my whole life and I will always be grateful for it. "A journey of a thousand miles must begin with a single step." -- Lao Tzu